On March 18, less than six hours after Indiana lost to fifth seed St. Mary in the NCAA Tour's 64th round, he was a new goalkeeper at the time. Tamar Bates He was already on the trip back to Kansas City. His daughter Leilani was expected to be born any day.
Although the Hoosiers' first NCAA tournament appearance – and loss – was still fresh in his mind, Bates had another matter that required his immediate attention: He was about to be a dad for the first time. He wondered how the family would support him over 450 miles away. He wondered if he was ready to deal with being a father while also toying with his basketball ambitions.
But on March 20, less than 48 hours after Bates hopped on the multi-trip flight back to his hometown, Leilani was born. And when Bates first laid eyes on her, the clarity and the answers he was looking for finally came to him.
"As soon as I saw her, it was like a face swap," Bates said. "Because it's like, now, everything I do, all the work I do, not just for me because I'm trying to provide for her and my family. So, getting up on those early mornings, late at night, doing whatever I've been doing just with more focus because I have A new goal.
Bates' potential on the court is clear. He was a former four-star prospect in the 2021 recruitment category according to 247Sports, and the 30th recruit in the nation. His arrival in Bloomington last season was met with great fanfare. And after a major breakout season at the powerful IMG Prep Academy, expectations from the IU fan base on Bates' shoulders were high.
However, Bates struggled to live up to those expectations. Under then-first-year coach Mike Woodson, Bates had little playing time, and his offensive output was small. Although he played in 32 of Indiana's 35 games, Bates averaged 3.9 points and 1.3 rebounds per game while shooting 33.8 percent from the field.
What many didn't see backstage during Bates' rookie season, it was his off-court struggles that he endured. In mid-December, he was forced to miss an IU match against Butler in the Crossroads Classic due to the death of his family. Throughout the entire Big Ten schedule, he tried to stay focused as the birth of his first child loomed.
For an 18-year-old, not to mention a freshman in one of the country's most-followed college basketball programs, it's easy to get caught up in the pomp and circumstance that swallow up everyday life. Bates was no different, and even if he tried, he wouldn't be able to avoid it.
"I feel like I went through this storm — I came out with a stronger basketball player, but I came out stronger mentally," Bates said. "…so just give it a try and find out, 'OK, this is where I'm going to get my shots and that's how it goes.'" "
And I went through the Big Ten [season] And I really feel everything I've been expecting in the last year. So I feel like having that experience, that year in my belt will help with everything."
Bates knows he will need to take his game to a higher level as a sophomore this fall if he is to increase his playing time and opportunity. In fact, the 6-foot-5, 200-pound shooting guard admits that his overall skill set needs to improve this season in order to unleash his apparent potential.
"The most impactful thing for me is that I can say that I am able to guard at a high level, run at a high level, make open shots and just be a constant leader, spokeswoman and motivator for the team," Bates said. The most important developments this season. "… I feel like one of my biggest skills is just having the energy and always ready to compete, just my competitive spirit."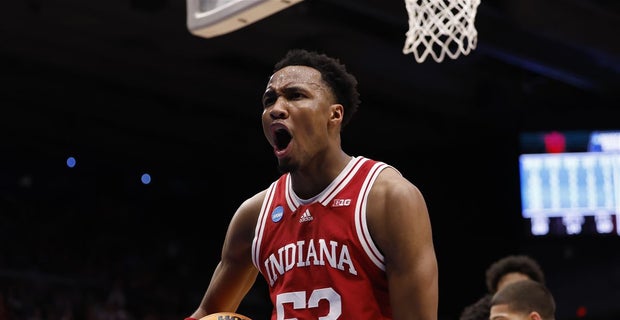 It's no longer just about Bates. The arbitrary, single-minded basketball skills he feels he needs to improve are no longer just for his own gain. They can't be, not with a new baby his life.
"My new goal is to get her food and put it on the table," Bates said. "And I would say the main thing is just to make sure that her upbringing, how I grew up is a thousand times better than the way I was raised. That's not a blow to my parents at all, they did a great job, but I want to outdo them, I want to do better than them. That's what It's supposed to be."
Bates does not enter paternity blindly. He said his family is fully supportive of him and his daughter, taking care of her in Kansas City while he is in Bloomington for summer rehearsals. From his parents to his brothers to his uncles and among them, Bates said he is at peace knowing his daughter is in good hands.
However, time spent away from Leilani would not be wasted. Instead, every decision Bates makes, every grain of sweat that falls on the wooden floor beneath him now has a new meaning behind it.
That's why, these days, when Bates considers whether he's doing enough for his daughter, the feeling of a leather basketball in his palm reminds him that it's part of the proverbial plan.
"I feel like there are a lot of leadership qualities that a father has at home, and that obviously translates to the basketball court," Bates said. "…I have two completely different mindsets when I am with my daughter and when I play basketball, but I feel focused and constantly learning and growing, these are the things that you can combine. Just like the things you eat and the things I have learned over the years, this is how you can through which to link the two."
Bates is currently dealing with several life-altering circumstances simultaneously. His goals for this season with Indiana are clear. His weaknesses about the NBA or professional basketball goals have never been more open.
But his eagerness to provide Leylani with the best childhood and life possible – that trumps everything.
"I just want to make sure she doesn't have to worry about anything, just give her the world and everything she can dream of," Bates said. "But at the same time, he instilled in her the things that were instilled in me, that you must work for all that you get."
–